Sunlight Tropical Sensations is a gorgeous bouquet of two of nature's most exotic and enticing flowers. Feminine and strong, the honeyed, floral scent is a favourite, ranking in the top five most popular fresh cut flowers in the world. The flower's sweet aroma seduces the senses and soothes the spirit. Its sensual fragrance is said to re-connect mind and body, creating feelings of euphoria. Sunlight Washing Powder with its exotic fragrance is suitable for washing both colours and whites.
Sunlight's laundry detergent range brings you the joy of fragrance, long after you've washed your clothes. With burst after burst of uplifting fragrance released right through your day, your laundry stays fragrantly fresh, with a brilliant deep clean you'll love. Sunlight laundry powder offers brilliant cleaning and excellent fragrance, with outstanding results even in cold water. It has brilliant cleaning power and is great on white clothes.
Sunlight 2in1 Tropical Sensations Handwash Washing Powder is ready to get to work! Made with the best that Sunlight offers, it's sure to clean your clothes thoroughly and make them smell sensational too. 
 How to Use: 
 Sprinkle a handful of Sunlight 2in1 Tropical Sensations Handwash Washing Powder into a bucket of clean water. Stir quickly with your hand as the powder dissolves to make foam. Soak for one hour. Wash as normal and rinse well. Don't forget to wash, dry and apply cream to your hands afterwards
Order these products on Jumia and have them delivered to your doorstep.
Key Features
The long-lasting fragrance of Sunlight 2in1 Tropical Handwashing Powder releases burst after burst of uplifting fragrance.
Sunlight 2in1 Tropical Handwashing Powder will put a spring in your step and a smile on your face
As fragrant as a field of flowers.
Fabric conditioner and washing powder in one!
Sunlight 2in1 Handwashing Powder with freshness of petals.
A tropical scent sensation
What's in the box
Sunlight Pink Powder Laundry Detergent -500g
Specifications
SKU

: SU503DR0WRK1KNAFAMZ

Care Label

: n/a

Main Material

: -0

Weight (kg)

: 0.5
Product Reviews (6)
5 out of 5
Sunlight Handwash powder
Performing perfectly well.
4 out of 5
good
okay
5 out of 5
Sunlight- every mom's bet
Kind to the skin, nice foam & makes the clothes smell fresh! Love it, used it for over a decade now!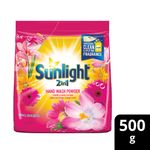 Sunlight 2 in 1 Hand Washing Powder Tropical Sensations 500g